E-learning is continuously evolving to become more engaging and entertaining. For HR professionals, learning and development and instructional designers dealing with the challenges of adapting training and development programs to hybrid or fully remote work and training models, innovative solutions are essential for successful training delivery.
This case study explores the collaboration between Karl Kapp, a leading expert in gamification and instructional technology, and LearnBrite, a platform for creating immersive and interactive learning experiences. Using Learnbrite, Karl Kapp brings the potential of metaverse solutions for training, featuring 3D environments, full-body avatars, AI chatbots, and immersive micro-learning to organizations.
The business-focused Metaverse offers an array of options and features that enable you to utilize serious games and virtual training for organizational development, as well as learning and development (L&D) in the workplace. Ready to find out more? Let's dive in.
Karl Kapp is all about learning, manufacturing, and e-technology. He uses his position as a thought leader in tech to help organizations get more from the latest software developments in learning and development. His expertise includes gamified experiences, 3D, and learning strategies.
Life lessons…from video games
What's LearnBrite?
LearnBrite leads the field as the only pure metaverse platform in the learning and development industry. The platform is prized for its fast and frictionless user experience. How fast? You can launch a VR-ready learning module in a single afternoon.
Why did Karl Kapp come to LearnBrite?
As an industry leader with many years of experience using games for learning, it was a coup for LearnBrite when Karl Kapp approached us back in 2018 to start a collaboration. Karl Kapp chose LearnBrite because he believed the platform could solve three key challenges:
How can we make a learning platform as easy to use as possible?
How can we maximize learner engagement?
How can we add new elements of personalization to the learner experience?
Challenge #1: How can we make a learning platform as easy to use as possible?
As a professional who makes learning happen in often highly technical sectors, Karl Kapp understands the importance of putting the user at the center of the experience.
Teaching our students to use something like Unity [a 3D content platform] is a daunting task, and we aren't creating programmers. We're creating instructional designers or learning experience designers, so simplicity is key.-Karl Kapp
Here are the leading platform features used in solving Karl Kapp's number one challenge.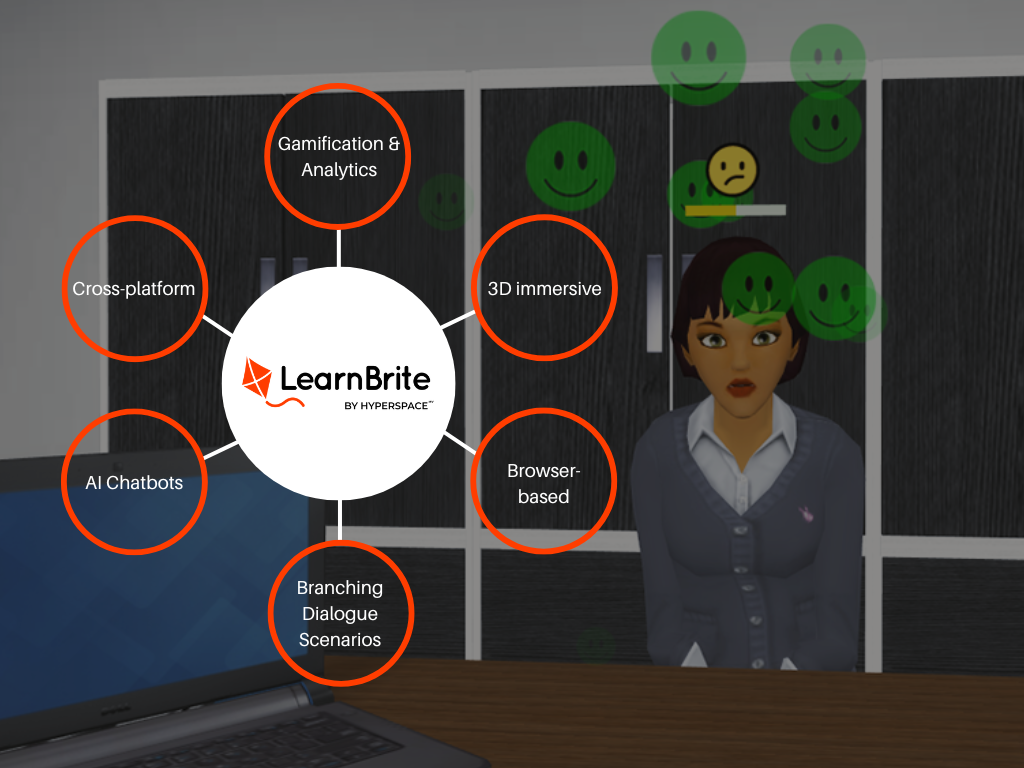 No coding skills are needed. The platform offers building blocks and pre-defined components you can drop in place and plug in to use as heeded.
ChatMapper integration branching dialogue scenario. LearnBrite makes the metaverse as simple as possible. The e-learning platform integrates with ChatMapper for writing natural-sounding branching dialogue. So everything happens quickly.
Pre-developed 3D avatars for attendees and AI chatbots. LearnBrite provides a wide range of pre-developed avatars with a diverse selection of outfits and looks, ready to use off the shelf.
Pre-build 3D environments and spaces. This, combined with an extensive library of 3D objects, means it's easy and super-fast to create a learning environment and place characters in it.
Real-time collaborative editing. The platform allows teams to collaborate and make changes in real time. So a team working together on a learning module can collaborate, review and make decisions together.
Multi-lingual text-to-speech. LearnBrite's 3D AI Chatbots have over 50 languages to speak, with subtitles available as well to help with accessibility.
Metrics. The gamification system pairs up with included metrics and analytics. This allows instructors to follow up on learners' progress and adapt or adjust in real-time.
Interoperability. Integrations with other platforms, tools, and learning management system is a big part of the LearnBrite metaverse platform for education. Some of the integrations include:

Articulate storyline
Adobe Captivate
Moodle
Blackboard
Embeddable. Any experience, 3D space, and virtual world created with LearnBrite can easily be shared with just a URL or can be embedded just as you would a YouTube video.
The simplicity of using [LearnBrite] is a huge plus.-Karl Kapp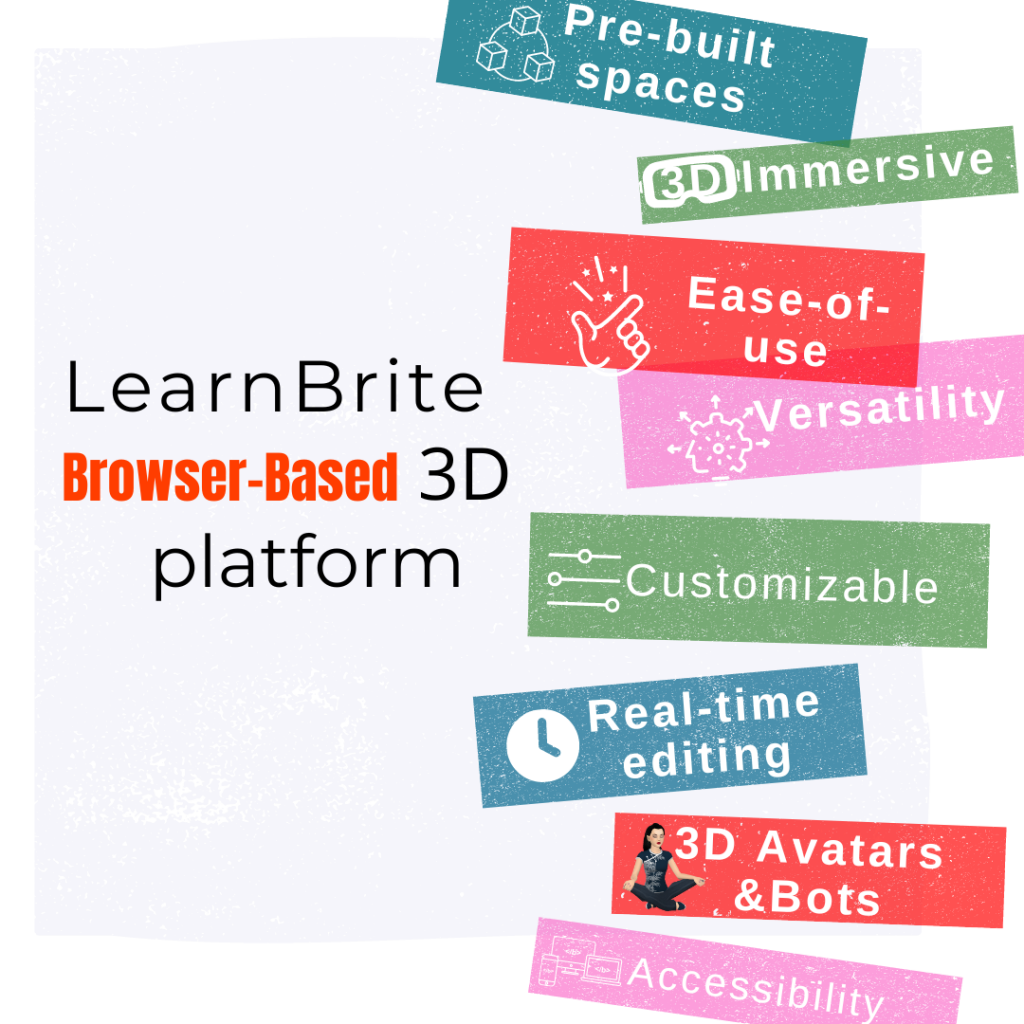 Challenge #2: How can we maximize learner engagement?
When asked about the impact of LearnBrite on his teams, Karl Kapp was unequivocal, saying, "The platform… was an instant hit". And here are a few reasons why.
These days everyone has to work harder to engage people with content. This includes training and development teams. The metaverse has become popular for e-learning because of its effectiveness at relaying information to users.
It's worth recalling that we remember:
10% of what we read
20% of what we hear
30% of what we see
80% of what we personally experience on the metaverse
The LearnBrite Learner Experience Platform has been developed with the needs of a highly competitive market at its core and with the objective of delivering more engagement and more value.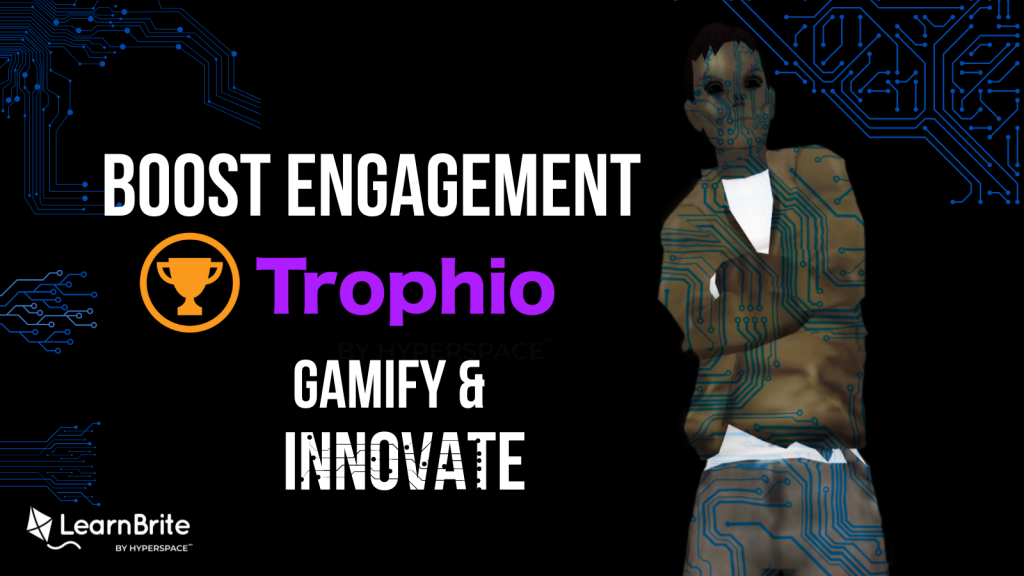 Gamification. LearnBrite offers a fully integrated gamification system. This, combined with ChatMapper and interactive 3D environments, enables instructional designers to create fun, experiential learning—giving individuals a chance to become active participants including through gamified experiences such as scavenger hunts. The software has been proven to help people stay engaged, connected, and learn.
Karl Kapp made fantastic use of gamification and platform features. The users are given a certain number of cards to use in an escape room situation. The fewer cards they used increased their final score.
Visual and audio cues were used to give users real-time feedback depending on the decisions they made or the actions they chose to take.
Interactive. Every part of the platform experience can be made interactive and accessible for users to engage with. This applies to the environments as well as the objects (static or animated) and the chatbots.
Also, the platform offers multiple methods of navigation which adds another layer of control for instructors and experience creators over the experience. Here are the main options for platform navigation.
Free teleport, where users can freely explore and interact with the environment, 3D objects, NPCs, or other users
Fixed hotspots reduce exploration and offer a fixed guidance system to keep the users focused only on certain elements
Immersive and Interactive experiences. Using the platform's gamification system, we are able to create any type of experience or simulate any type of situation with multiple layers of complexity as desired, from team-building scavenger hunts and escape rooms to sales simulations, compliance training, or medical simulations.
To not give too much away from the experience, I'll just share a quick brief; Users had multiple 3D environments to explore and multiple branching scenario dialogues to go through.
AI chatbots were used as additional characters, some adding to the story and being helpful, engaging in conversation with the users, and offering information.
Other NPCs were in the form of zombies running interference while users tried to apply the information they used, answer questions and queries correctly, and finish the simulation despite the zombies' interference.
Challenge #3: How can we add new personalization elements to the learner experience?
Learning gets better results if it's more entertaining and engaging and allows people to configure their own experiences.
The ability to create diverse avatars in their own image offer learners the option for full expression and inclusion. This allows them to have fun and gain a sense of ownership over their program.
Besides offering over 1 billion style combinations for avatars, the platform includes three other avatar types available to users. The type of avatar can quickly be decided by the instructional designers when setting up the experiences simply by choosing from a dropdown menu. The other three avatar types are:
Video avatars
Hologram avatars
Head/ Shoulders VR avatar
Karl Kapp chose the 3rd personal 3D avatars for learners when accessing the Zombie Sales Apocalypse. This means the users got to personalize their avatars and had complete control of the way they were represented in the environment.
This helped immerse learners in the experience and create a connection between the NPCs and their own characters. Giving users more than a sense of ownership but a sense of contact with the characters in the story.
The AI chatbots were used as both guides and helpful characters during the simulation and disruptors, adding a level of complexion to the experience. This helps keep users focused and engaged.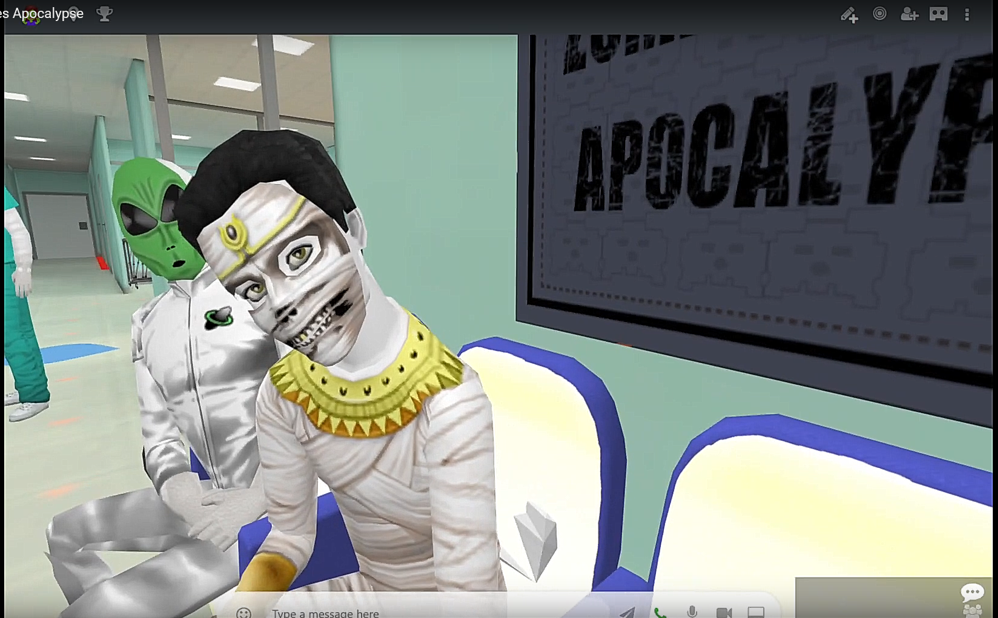 LearnBrite creates video game-like branching scenarios where the learner can get a sense of independent discovery. In addition, LearnBrite brings together AI chatbots and ChatMapper, so learners can choose to engage in one-to-one conversations at a time of their choosing. 
Karl Kapp was asked about LearnBrite's personalization features. His response was enthusiastic.
"The configuration of the workspace, connectivity, and ability to add in other elements (websites, videos, and non-player characters) to the environment of LearnBrite was impressive and so easy to use,"-Karl Kapp
3D spaces are decorated to match the scenario simulation and place users in a familiar setting, just as they would be in reality in the given circumstances. Users had the ability to explore and interact with the environments. This also included moving quickly and finding the correct spots to be in a space where the Zombies could not disturb them.
Was the collaboration between Karl Kapp and LearnBrite a success?
When Karl Kapp was asked how he rated his experience with LearnBrite on a scale of 1 to 10—with ten as the best score possible—he was overwhelmingly positive.
I need to say a 10. Because it's always been easy to use. It also has simple and complex elements, so if you need to do something quickly, that's possible, if you want to do something more complex, that's possible as well.-Karl Kapp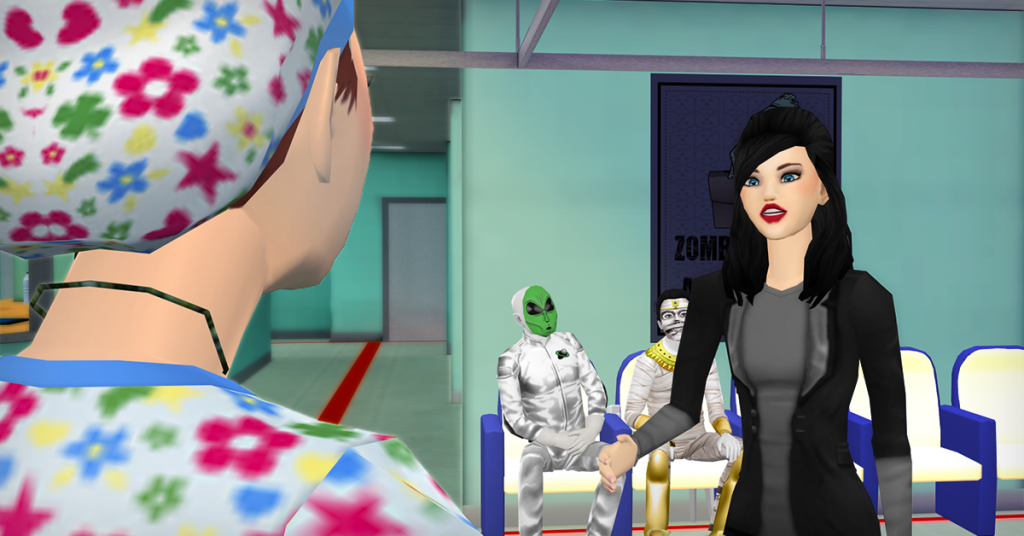 Karl Kapp's highly successful collaboration with LearnBrite highlights his expertise in identifying and utilizing cutting-edge solutions for learning and development. His positive feedback on the platform's ease of use, versatility, and adaptability for a wide range of projects, both simple and complex, showcases his commitment to selecting the best tools for effective learning experiences. Since their partnership began in 2008, Kapp continues to work with LearnBrite; an indication of his confidence in the platform's ability to meet the ever-evolving challenges of learning and development.
This ongoing collaboration further solidifies Kapp's reputation as a forward-thinking leader in the field of instructional technology and gamification.
If you're inspired by the success of Karl Kapp's collaboration with LearnBrite and want to discover how this cutting-edge platform can transform your organization's learning and development, don't hesitate to explore its potential.
Experience the power of the metaverse for yourself and elevate your training programs to new heights. Visit LearnBrite's website today at www.learnbrite.com and request a demo to see firsthand how it can revolutionize your e-learning strategy.